FieldView™ Cab App Tips and Tricks. Because there's no such thing as being too efficient.
May 13, 2021
As a FieldView user you're already the kind of farmer who's looking for anything you can to give you an edge to improve your farm year over year. You've come to the right place (well, blog post). Over the next few paragraphs, we'll provide a few tips and tricks to help you make the most of the Cab app.
Before you plant
Make sure you're using the latest version of the FieldView Cab app – You can't take advantage of everything FieldView offers if you don't have the latest version. So, visit the App Store to be sure you're up to date.
Regularly reboot your iPad – You'd be surprised what a difference this can make in how both your iPad and your Cab app perform. A quick reboot a couple of times a week will go a long way to making sure you're optimized and ready to go.
Create your master hybrid list – It takes a little extra time up front, but when you create or update your master hybrid list, everything else about using FieldView becomes easier. Having your hybrid list up and ready to go helps get the job done.
During the Season
Use the "Drop Pin" button for rocks – We can all agree that there's no such thing as a good rock in your fields. So when you come across one, drop a pin, so you can remember exactly where it is so you can return and remove it.
Auto-adjust the legend on any map – It's important you're seeing the variability on your maps, so you can see the variability in your fields. To better represent that variability, just tap on the legend and use the Auto-Adjust function to get it to your liking.
Change the green panes you see when you're connected to the FieldView Drive – If you look below you'll see we've circled the edit button. You can use this to choose and change the green panes you want to see when you're in the cab. So you can always have the information you want front and centre in real time, exactly when you need it.
Always get to the field you're looking for – The more farm you've got, the more fields you've got. With FieldView, you can always find the field you're looking for. When you are in the Map screen of the Cab app, zoom out, tap on the symbol for a particular field and you'll get directions to that field. It's that easy.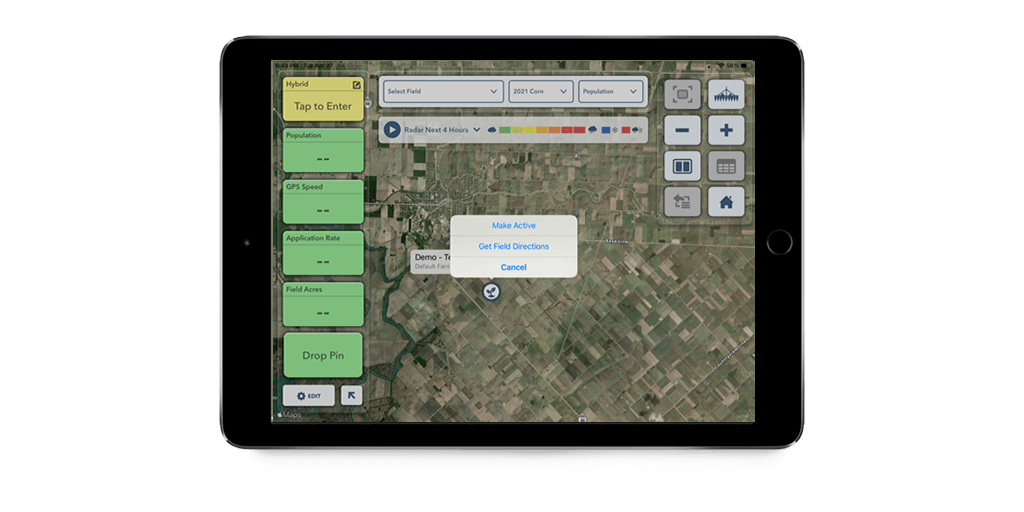 Map what you want with custom maps – With custom maps making trials or tracking changes you've made in a field is easy. If you decide to change something like seeding depth in a part of your field, you can make a custom map for just that part of the field. That means you can generate a field region report for these passes in that zone to see whether it paid off in better yields.
So there you have it. Just a few tips and tricks you can use to take advantage of everything FieldView has to offer. Got any tricks of your own? Feel free to share them with us on Twitter by tagging @FieldViewCanada. We'd love to hear all about it.
---