This Is My Story: Kim Keller
April 16, 2021
Like anyone who grew up farming, Kim is no stranger to hard work. But her love of agriculture and the people who live it has led her to working as both a Project Manager at Climate FieldView™ as well as farming with her Mom, Dad and brother. It's not an easy life, but then again, knowing Kim, she's more than up to the challenge.
Like some farm kids, Kim left for university with no intention of ever coming back to the farm. But after getting her degree and spending six years working in the insurance business, something was calling her back to the thing she realized she loved most. "I remember actually calling my parents up and I said 'I think I want to try farming" she recalls with a smile. "And they were like 'yeah, okay. I doubt it. You hate farming'. But I somehow convinced them and I got to come back for a harvest on a trial basis back in 2011. And it actually went really well."
By 2016, Kim had made her way back to the family farm in Saskatchewan on a more permanent basis. It was also the year that she joined the Climate FieldView team in Canada as one of its first few employees. In fact, her first role with the company was to lead the Western Canadian pre-launch with just a single dealer and around 50 different farmers across Western Canada. As Kim remembers it. "We went across Canada and helped get them onboarded and told them what FieldView was, how it could work for their farm, and really worked closely with the internal team, the farmer, and the dealer at that time. This was to ensure that our farmers and everyone involved had a really great experience and we all sort of learned together."
It was during these early days that Kim saw firsthand how FieldView could take a farmer's data and use it to help them make better decisions for their operations. It also didn't hurt that Kim and her family were early FieldView users too. "On our farm my role is really about getting all the data and having it streamlined and in one place. That way when we need to make a decision, I can just pull it up."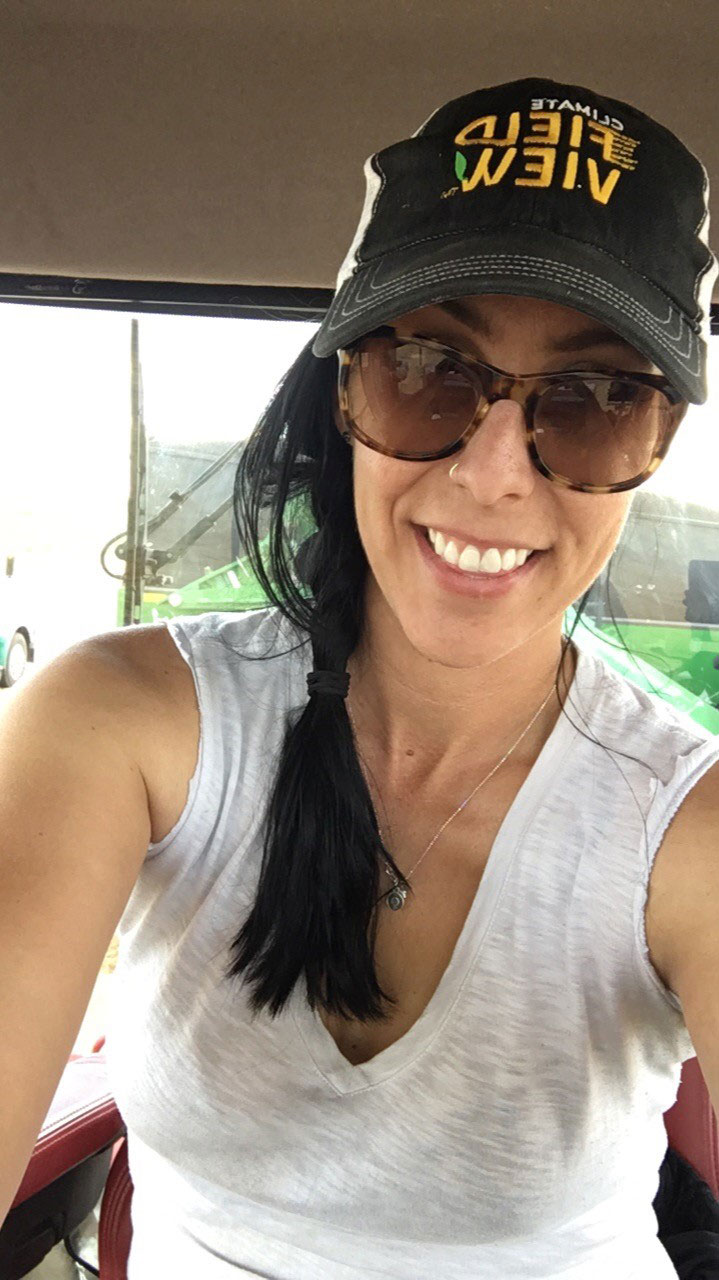 These days, Kim doesn't spend quite as much time with FieldView customers. As a Project Manager she works primarily with the internal team putting initiatives in place for the team to roll out. It's the kind of work that allows Kim to really make a difference. "When I get up every day and work at The Climate Corporation I think, how can I make my teammates' lives better? And so when I can deliver projects that I can see make my teammates' lives better, I'm pumped."
She went on to say. "I know I've done my job and that's incredibly rewarding. I'm really lucky that I get to work on stuff like that every day."
So, if you haven't realized it yet: why Kim has a passion for her work, a love of ag, and an eye on making things better for farmers across the country. Put those things together and Kim has a pretty clear vision of where she'd like to see digital ag go in the future. "I believe that we must continue to move toward the normalization of data. We can no longer operate in an ecosystem where we're working in those silos and it's going to take a company like FieldView to be that neutral platform where everything can come in. And all that data is normalized and it really does become that place for a farmer to go to, to get the data that is related to their farm. With normalized data, we can get beyond just seeing and reviewing data and benefit from actionable insights and recommendations. Because, in order to make really great business decisions, we have to have all the data put together and normalized and put into a way that is readable, digestible, and accessible."
To emphasize her point even further, Kim motioned to the whiteboard behind her and spoke with the conviction of someone who truly understands. "For me personally… and this still holds true today, is that a farmer owns their data. It's as simple as that."
You'll get no argument here Kim. None.
When Kim isn't working with FieldView or on the family farm, you can find her advocating for other issues in agriculture that are close to her heart. As co-founder of Saskatchewan Women in Ag, Kim and her fellow members help to support, empower, and connect all women in Agriculture, in an effort to strengthen the industry as a whole. She is also co-founder of The Do More Ag Foundation, an organization focused on encouraging, empowering and supporting producers to take care of their mental well-being.
---